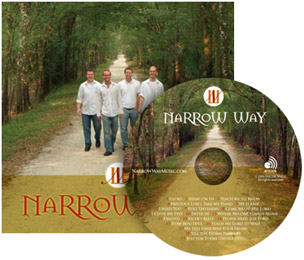 Looking for something to listen to on the long Thanksgiving commute next week or a stocking stuffer for the holidays?
Four guys who crossed paths at Florida College in Temple Terrace, FL a few years ago have put out their first CD and it is fantastic.   With nineteen a capella hymns altogether, Narrow Way is a great blend of some classic favorites (Precious Lord, Take My Hand and Where No One Stands Alone), as well as a number of contemporary selections.   The recording even has a Narrow Way original, Teach Me to Know.   The renditions of Shine On Us and Just For Today are worth the price of the recording alone.   The full track list with audio samples is available here.   If you have enjoyed the One Voice recordings in recent years, you'll enjoy this first offering from Narrow Way as well.
CDs are available directly from the group (252-222-3805) or through the Florida College Bookstore.   The full album or individual songs can be downloaded from CD Baby or iTunes.   More details are available via the Narrow Way Facebook page.