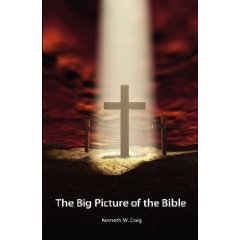 On March 1, 2009, I preached three lessons at Laurel Canyon based on Ken Craig's excellent booklet, The Big Picture of the Bible.
This 45-page booklet has full-color graphics throughout to complement Ken's thought-provoking material and is perfect for evangelistic outreaches.   At Laurel Canyon, we make copies freely available to all of our visitors.   I highly recommend this great resource.   Here's what others have said:
"The battle for souls will be won person to person.   Ken Craig's material is a great asset to those who are seeking to expand the population of the Kingdom.   I highly recommend it."   (David Tant)

"Ken Craig has made a great presentation of the way of salvation, putting all the elements into proper relation and making the whole theme of the Bible understandable.   Not just Ken, but more and more teachers around the world are finding this lesson one they can teach effectively, simplifying the larger picture for people out of Christ.   I commend it to everyone who wants to be effective in leading people to Christ."   (L.A. Mott)

"Ken's material is very effective both to those who know nothing about the Bible as well as the scholar in that they are challenged."   (Ricky Shanks)
Special bulk discounts are available to churches when purchased directly from the publisher.
My adapted sermons from March 1 are available below.
INTERACTIVE SERMON OUTLINES :
SERMON AUDIO :
Part 1: God's Most Defining Characteristic
Part 2: "Behold, the Lamb of God!"
Part 3: The Greatest News You'll Ever Hear