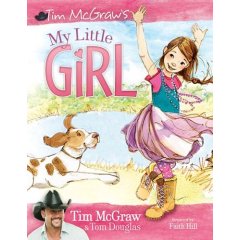 Looking for a good children's book to give as a gift during this holiday season?   I'd recommend Tim McGraw's new book, My Little Girl.   My girls and I have been reading it off and on for the last two weeks and it's been one of the most consistently requested books before recent bedtimes.
My Little Girl was co-written with Tom Douglas, a songwriter and singer whose hit songs include "My Little Girl" and "Grown Men Don't Cry" with Tim McGraw, as well as "Little Rock" by Collin Raye and "Love's The Only House" by Martina McBride.   Illustrations are beautifully done by Julia Denos.
This 32-page book captures a variety of scenes from Katie's special day with her dad.   Katie's dad had promised a spectacular day–just the two of them–and Katie can't wait.   It's going to be a "better than chocolate ice cream with sprinkles" kind of day!
But Katie is quickly disappointed when she hears her dad say that their "big day" includes "doing nothing in particular…just being together will be spectacular."   In simple, everyday, and completely free ways, Katie and her dad spend time together–plain and simple.   Even though Katie starts out skeptically, as she's carried to bed later that night, she declares, "I had a spectacular, nothing-in-particular day."   When asked by her dad about her favorite part, Katie thinks for a moment, then says, "Being with you!"
In a time where children are consistently taught that enjoyment comes from buying "stuff" or sitting in front of a digital screen, My Little Girl is a refreshing reminder that the most important and best things in life are free.   One of the greatest gifts a dad can give his children is his time.   Most children don't need more toys or video games or electronic gadgets.   Most children need more undivided attention from their parents, particularly their fathers.
As My Little Girl ends, Katie is in bed, saying a prayer, and she thanks God for her precious relationships.   At the end of the day, God and family are what matter most.   That's a lesson we all–young and old–need to learn.
My Little Girl is aimed at a 4-8 year old reading level and is published by Thomas Nelson.   You can take a sneak peek at several of the pages here.