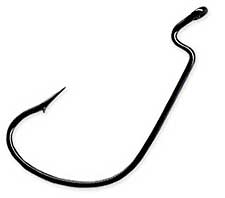 Having meditated on James 1:13 yesterday, we turn our attention to James 1:14 today.
The figure used by James is pretty easy to understand, isn't it?   Think of the fish that first notices the juicy worm dangling in the distance.   He allows himself to drift closer and closer, relishing the opportunity to swallow the worm whole.   As he finally gets within range, he opens up, and…
…WHAM! Hook, line, and sinker.
The simple fish has been deceived.   He's helplessly yanked from the safety of his watery haven.   Freedom is lost.   He had no idea that the worm concealed a hook…a hook that would cost him his life.
As you navigate the dangerous waters of your day, remember the fish.   You also will see enticing lures floating in the distance.   Your fleshly desires will ache for gratification.   You will be tempted.   Just remember, behind the juiciest of worms, the sharpest of hooks is waiting.